Attracting the twentysomething worker
Here is a fascinating article from Fortune Magazine on Gen Y in the work place:
The baby-boomers' kids are marching into the workplace, and look out: This crop of twentysomethings really is different. Fortune's Nadira Hira presents a field guide to Generation Y.

(Fortune Magazine) -- Nearly every businessperson over 30 has done it: sat in his office after a staff meeting and - reflecting upon the 25-year-old colleague with two tattoos, a piercing, no watch and a shameless propensity for chatting up the boss - wondered, What is with that guy?!
We all know the type: He's a sartorial Ryan Seacrest, a developmental Ferris Bueller, a professional Carlton Banks. (Not up on twentysomethings' media icons? That's the "American Idol" host, the truant Matthew Broderick movie hero, and the overeager Will Smith sidekick in "Fresh Prince of Bel-Air.")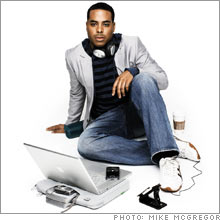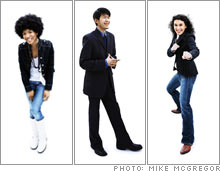 At once a hipster and a climber, he is all nonchalance and expectation. He is new, he is annoying, and he and his female counterparts are invading corporate offices across America.
Generation Y: Its members are different in many respects, from their upbringing to their politics. But it might be their effect on the workplace that makes them truly noteworthy - more so than other generations of twentysomethings that writers have been collectively profiling since time immemorial.
They're ambitious, they're demanding and they question everything, so if there isn't a good reason for that long commute or late night, don't expect them to do it. When it comes to loyalty, the companies they work for are last on their list - behind their families, their friends, their communities, their co-workers and, of course, themselves.
But there are a whole lot of them. And as the baby-boomers begin to retire, triggering a ballyhooed worker shortage, businesses are realizing that they may have no choice but to accommodate these curious Gen Y creatures. Especially because if they don't, the creatures will simply go home to their parents, who in all likelihood will welcome them back.
Some 64 million skilled workers will be able to retire by the end of this decade, according to the Conference Board, and companies will need to go the extra mile to replace them, even if it means putting up with some outsized expectations. There is a precedent for this: In April 1969, Fortune wrote, "Because the demand for their services so greatly exceeds the supply, young graduates are in a strong position to dictate terms to their prospective employers. Young employees are demanding that they be given productive tasks to do from the first day of work, and that the people they work for notice and react to their performance."
Those were the early baby-boomers, and - with their '60s sensibility and navel-gazing - they left their mark on just about every institution they passed through. Now come their children, to confound them. The kids - self-absorbed, gregarious, multitasking, loud, optimistic, pierced - are exactly what the boomers raised them to be, and now they're being themselves all over the business world.
It's going to be great.
"This is the most high-maintenance workforce in the history of the world," says Bruce Tulgan, the founder of leading generational-research firm RainmakerThinking. "The good news is they're also going to be the most high-performing workforce in the history of the world. They walk in with more information in their heads, more information at their fingertips - and, sure, they have high expectations, but they have the highest expectations first and foremost for themselves."
Read the rest of the article here!

Labels: employment, generation y, generational differences